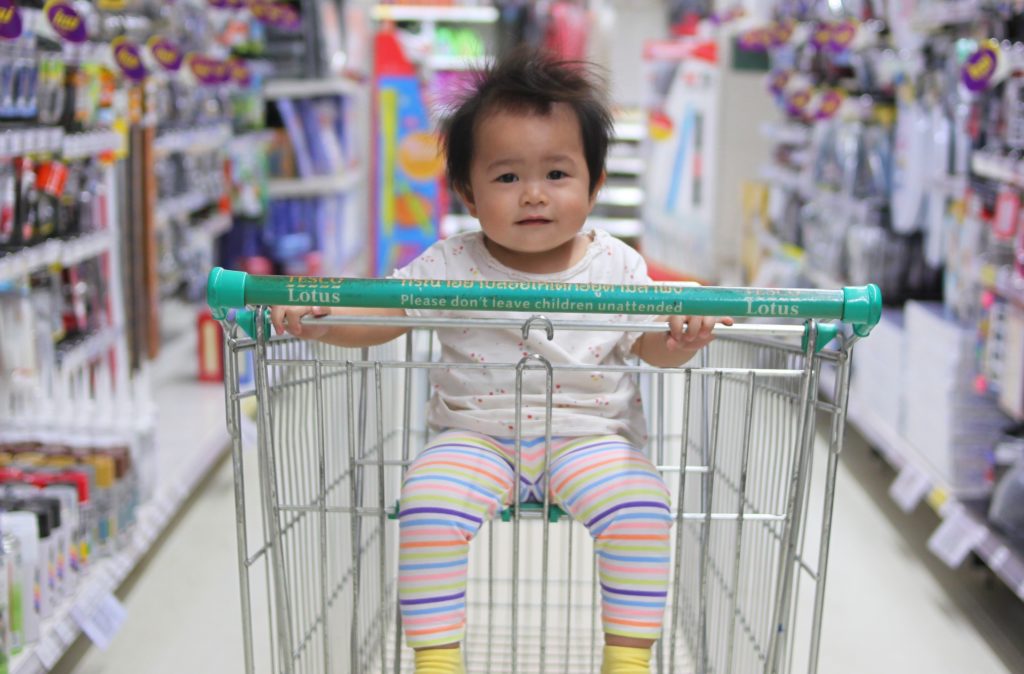 Shopping…some like it, others hate it. Holiday shopping has it's own sparkle as well as tarnish. The cheerful carols, mistletoe, and tinsel are combined with grouchy shoppers, slushy snow, and fatigue.
One of the big challenges during the holidays is shopping with young children. With the barrage of ads and bulging shelves at stores touting the newest, latest, and greatest kids get carried away with what they'd like to see under the tree. Try these tips for sanity while shopping and peace in procuring those last minute gifts.
Shopping Strategies for Parents with Littles
Set expectations. Polite behavior includes an inside voice, sitting in the cart, and no whining before leaving home. Determine a reward for meeting the set expectations- a special story time, a favorite lunch, playing a game. Make sure you follow through with the reward.
Consider the time of day. Shop when your children are well rested and well fed. Tired + hungry = crabby kids. Try to choose less busy times to be in the stores.
Make the shopping list with your children. Include all the items needed for the people on your gift list. Tell the kids upfront the shopping trip is not to purchase gifts for them but for others. When they ask for an item at the store, refer to the list and say, "No, that is not on our list today."1
Keep a special notebook in your bag or pocket. When your children see something they like, write it down in this separate notebook. Mention to the kids how much their gift ideas will help the grandparents and others wanting to get a special gift.2
Turn off the cell phone. Tune in your children throughout the shopping trip. Kids will get your attentions in polite or impolite ways so focusing your attention on the children and the task at hand will make for a better shopping experience for everyone.
Praise your kiddos during the shopping trip if they are good shoppers.
Allow kids to help choose gifts for others. This gives them an important job to do and they will feel special when the gifts are opened.
Involve kids in wrapping the presents and making gift tags. The packages may not be neat as you'd like, but allow imperfections. Download gift tags for your kids to decorate and attach to the presents.
Reward good behavior. If your children have met your expectations, thank them and give them the agreed upon reward to celebrate. Next time you can remind them what wonderful shoppers they were and how you're sure they can do it again on the next shopping trip.
Be prepared to leave. If you've run out of strategies and the kids are still misbehaving, go home. It usually takes only one time for Mom or Dad to say, "We are going home right now. I expected polite behavior not ___________ (whining/complaining/crying)." Then leave. When you get home, process what went wrong and how the child can make it better next time.
Enjoy this beautiful time of year.  Have fun choosing special gifts for loved ones to celebrate the greatest Gift of love, Jesus. Have a merry and bright Christmas!
P.S. While you're at it, order a gift for yourself this Christmas! Raising Little Kids with Big Love contains many parenting ideas like the ones listed above.
1. Wildenberg and Danielson, Raising Little Kids with Big Love (Friendswood, Bold Vision Books, 2014) p. 46-47.
2. Wildenberg and Danielson, Raising Little Kids with Big Love (Friendswood, Bold Vision Books, 2014) p. 47.
© 2017 Becky Danielson. All rights reserved.
Photo by Jomjakkapat Parrueng on Unsplash.